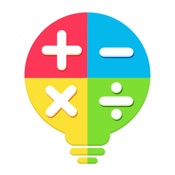 Tricks for Math - Cool Tips

- By Wizappo, Inc.

Price -$2.57
DESCRIPTION:
This mental math app is a great choice for anyone who wants to quickly and correctly solve math based problems faster than anybody else. Learn and practice these 25 tricks of mental math in a fun and appealing format. After you progress through various levels of proficiency, tease your brain with the timed quiz session while waiting in lines, riding in the car, plane, or train. *** BENEFITS *** Learning to perform fast math calculations in your head will help you immensely regardless of which field of life you deal with. The powerful ability to quickly solve math calculations -- whether
OVERVIEW:
Tricks for Math - Cool Tips is a free educational mobile app By Wizappo, Inc..It helps students in grades 3,5 practice the following standards 3.OA.7, 5.NBT.2,.
This page not only allows students and teachers download Tricks for Math - Cool Tips but also find engaging Sample Questions, Videos, Pins, Worksheets, Books related to the following topics.

GRADES:

STANDARDS:

ADDITIONAL INFORMATION:
Developer: Wizappo, Inc.
Software Version:
1.3
Category:
Education