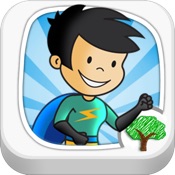 Spelling Hero Game

- By June Infrastructure Pvt Ltd

Price -$2.57
DESCRIPTION:
* Top 10 Educational App - Fun Way to Practice Spelling! * * 500,000 Spellings Practiced already * Take on 10 super villains in a spell contest to the finish! Spelling Heroes Game - gamifies the process of learning to spell. This game acts as a workbook for Spelling Hero - the most complete spelling list to practice for school bees, regional bees, and for anyone aspiring to the highest ranks of the National Spelling Bee. If you are skeptical about studying with anything other than the dictionary, we recommend that you use our Spelling Hero Game to start improving your word bank for
OVERVIEW:
Spelling Hero Game is a free educational mobile app By June Infrastructure Pvt Ltd.It helps students in grades 3,4,5 practice the following standards L.3.2e,L.4.2d,L.5.2e.
This page not only allows students and teachers download Spelling Hero Game but also find engaging Sample Questions, Videos, Pins, Worksheets, Books related to the following topics.

GRADES:

STANDARDS:

ADDITIONAL INFORMATION:
Software Version: 2.4

Category: Education