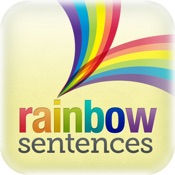 Rainbow Sentences

- By Mobile Education Store LLC

Price -$7.99
DESCRIPTION:
Own as an individual app or as part of our MES Speech Therapy Bundle. Winner - 2012 Best Language Development App - Technology in Special Education Finalist - Best Education App of 2012 - Best Apps Ever Rainbow Sentences is designed to help students improve their ability to construct grammatically correct sentences by using color coded visual cues. The who, what, where, and why parts of sentences are color coded to help students recognize and understand how combinations of these parts create basic sentence structure. Students will learn how to recognize the parts of sentences such as
OVERVIEW:
Rainbow Sentences is a free educational mobile app By Mobile Education Store LLC.It helps students in grades 3,4,5 practice the following standards L.3.1i,L.4.4b,L.5.3a.
This page not only allows students and teachers download Rainbow Sentences but also find engaging Sample Questions, Videos, Pins, Worksheets, Books related to the following topics.

GRADES:

STANDARDS:

ADDITIONAL INFORMATION:
Developer: Mobile Education Store LLC
Software Version:
1.5.1
Category:
Education