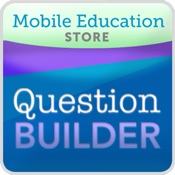 Question Builder

- By Mobile Education Store LLC

Price -$5.99
DESCRIPTION:
Question Builder is designed to help elementary aged children learn to answer abstract questions and create responses based on inference. Extensive use of audio clips promotes improved auditory processing for special needs children with autism spectrum disorders or sensory processing disorders. Audio clip reinforcement can be turned on or off for non-special needs children. Question Builder offers a rich and fun environment for improving the ability to abstract. FEATURES -Simple and intuitive interface to answer questions -Why, What, Where, How and Random question formats -1200 audio
OVERVIEW:
Question Builder is a free educational mobile app By Mobile Education Store LLC.It helps students in grades 3,4,5 practice the following standards .
This page not only allows students and teachers download Question Builder but also find engaging Sample Questions, Videos, Pins, Worksheets, Books related to the following topics.

GRADES:

ADDITIONAL INFORMATION:
Developer: Mobile Education Store LLC
Software Version:
1.7
Category:
Education
RELATED APPS: