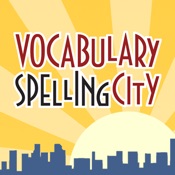 SpellingCity

- By SpellingCity

Price -Free
DESCRIPTION:
VocabularySpellingCity is a fun way to learn spelling and vocabulary words by playing engaging games using any word list. The most popular activities are Spelling TestMe, HangMouse, and our vocabulary and phonics games, available to Premium Members. The most popular word lists are Sound Alikes, Compound Words, Hunger Games and SAT Words. The free app includes ten of our most popular learning activities and ten of our most popular word lists. Spelling TestMe is a spelling test that reads each word aloud, uses it in a sentence, and repeats the word. Students can work at their own pace and rec
OVERVIEW:
SpellingCity is a free educational mobile app By SpellingCity.It helps students in grades 3,4,5 practice the following standards L.3.2e,L.4.2d,L.5.6.
This page not only allows students and teachers download SpellingCity but also find engaging Sample Questions, Videos, Pins, Worksheets, Books related to the following topics.
1. L.5.6 : Acquire and use accurately grade-appropriate general academic and domain-specific words and phrases, including those that signal contrast, addition, and other logical relationships (e.g., however, although, nevertheless, similarly, moreover, in addition)..

GRADES:

STANDARDS:

ADDITIONAL INFORMATION:
Software Version: 1.9.13

Category: Education