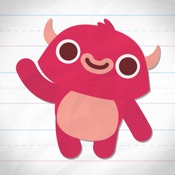 Endless Reader

- By Originator Inc.

Price -Free
DESCRIPTION:
** App Store's Editor's Choice ** *From the team at ORIGINATOR - the creators of the beloved Endless Alphabet and Sesame Street's Monster at the End of This Book and Another Monster.... Originator is a team of passionate artists and engineers dedicated to the best education+entertainment apps for kids.* As a follow-up to Endless Alphabet, set the stage for early reading success with Endless Reader! This app introduces " sight words " , the most commonly used words in school, library, and children's books. Kids need to recognize these words by sight in order to
OVERVIEW:
Endless Reader is a free educational mobile app By Originator Inc..It helps students in grades 3,4 practice the following standards L.3.5a,L.4.4b,.
This page not only allows students and teachers download Endless Reader but also find engaging Sample Questions, Videos, Pins, Worksheets, Books related to the following topics.

GRADES:

STANDARDS:

ADDITIONAL INFORMATION:
Software Version: 2.5

Category: Education