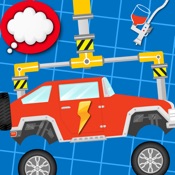 Little Big Car Factory: Spelling Game

- By Little Big Thinkers

Price -$1.99
DESCRIPTION:
Children love spelling in this engaging 'build and spell' game. Parents love how easy it is to add custom word lists and see children's progress. It's great for weekly spelling lists, learning new vocabulary, and spelling bee practice. Ages 4-8. In the Little Big Car Factory, players become super spelling car designers! After selecting a vehicle to customize, they will spell words to gain access into each of the Design Labs at the factory. They will select from a variety of flashy paint designs, snazzy wheels, fun decals, and groovy radio tunes before taking it out for a spi
OVERVIEW:
Little Big Car Factory: Spelling Game is a free educational mobile app By Little Big Thinkers.It helps students in grades 3,4 practice the following standards L.3.2e,L.4.2d,.
This page not only allows students and teachers download Little Big Car Factory: Spelling Game but also find engaging Sample Questions, Videos, Pins, Worksheets, Books related to the following topics.

GRADES:

STANDARDS:

ADDITIONAL INFORMATION:
Developer: Little Big Thinkers
Software Version:
1.4
Category:
Education