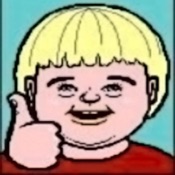 Spell-A-Word

- By RJ Cooper & Associates, Inc.

Price -Free
DESCRIPTION:
his large-print, early academic program is for beginning to advanced letter users. It uses an errorless learning method. Spell-A-Word works on identification, spelling, & word recognition (for reading). WORKS WITH EXTERNAL KEYBOARD, such as our Colored-Rows BigKeys, or any Bluetooth keyboard (or *any* USB keyboard)! Or choose from the regular iOS keyboard, or Spell-A-Word's own 1-row-at-a-time one). Scaffolding (as much help as needed but as little as possible) is embedded so as to help those with significant cognitive challenges. This program is designed for you to easily enter l
OVERVIEW:
Spell-A-Word is a free educational mobile app By RJ Cooper & Associates, Inc..It helps students in grades 3,4,5 practice the following standards L.3.2e,L.4.2d,L.5.2e.
This page not only allows students and teachers download Spell-A-Word but also find engaging Sample Questions, Videos, Pins, Worksheets, Books related to the following topics.

GRADES:

STANDARDS:

ADDITIONAL INFORMATION:
Software Version: 1.2

Category: Education