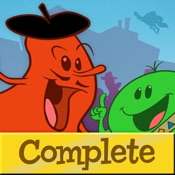 Grammaropolis - Complete Edition

- By Grammaropolis LLC

Price -$16.76
DESCRIPTION:
" The linguistic insights are pure gold. " - Wired " Learning grammar has never been more fun! " - School Library Journal " Bright, cheerful, and very entertaining. " - Tech & Learning **Featured in the Education App Store: Kickstart Your School Year 2013, 2014, 2015; What's Hot** Grammaropolis is where grammar lives! Hailed as a Schoolhouse Rock for the 21st Century, Grammaropolis uses the parts of speech as animated characters whose personalities are based on the roles they play in the sentence. From the shady pronoun always trying to take the no
OVERVIEW:
Grammaropolis - Complete Edition is a free educational mobile app By Grammaropolis LLC.It helps students in grades 3,4,5 practice the following standards W.3.5,L.4.1d,L.5.1d.
This page not only allows students and teachers download Grammaropolis - Complete Edition but also find engaging Sample Questions, Videos, Pins, Worksheets, Books related to the following topics.
1. W.3.5 : With guidance and support from peers and adults, develop and strengthen writing as needed by planning, revising, and editing. (Editing for conventions should demonstrate command of Language standards 1.

GRADES:

STANDARDS:

ADDITIONAL INFORMATION:
Software Version: 1.2.2

Category: Education