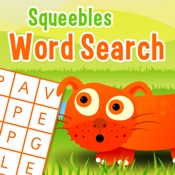 Squeebles Word Search

- By Ian Knapp

Price -$2.57
DESCRIPTION:
Perfect for 5 to 11 year olds, the Squeebles are here again to help your child recognise and learn key spelling words whilst having great fun at the same time in Squeebles Word Search. Combining children's natural love of word puzzles with the colourful Squeebles environment and a great reward system, your children will love using this app over and over again. The app features nearly 1000 built in words and allows you to add your own so as to personalise the app for your children. Key Features: - 20 built in word search categories, including animals, sports, food and many more, ea
OVERVIEW:
Squeebles Word Search is a free educational mobile app By Ian Knapp.It helps students in grades 3,4,5 practice the following standards L.3.2e,L.4.2d,L.5.2e.
This page not only allows students and teachers download Squeebles Word Search but also find engaging Sample Questions, Videos, Pins, Worksheets, Books related to the following topics.

GRADES:

STANDARDS:

ADDITIONAL INFORMATION:
Software Version: 1.6

Category: Education